Quarry Biodiversity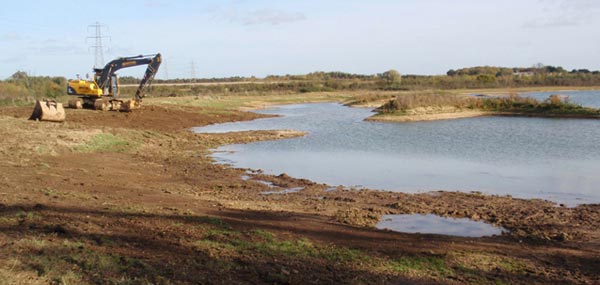 We are part of an industry that is, through its work, probably making a bigger contribution to the cause of biodiversity than any other. Given the nature of our operations, we have an opportunity to create new habitats ranging from woodland to grassland and wetland. We have won awards for the quality of our restoration to nature-based end-uses and are constantly helping to evolve new ideas and techniques.
Case study 1: Pond Conservation
We are playing a key role in a new nationwide initiative that aims to reverse the decline in British ponds.
The campaign comes from Pond Conservation, a national charity dedicated to protecting pond wildlife.
Based in Oxfordshire, it has recognised the particular potential for new ponds on aggregate sites from initial studies involving our restored gravel quarries in the Lower Windrush Valley around Witney. Such has been the success that what has been learned is now being extended to quarries right across Britain with the aim of creating up to 200 clean water ponds on aggregate sites by March 2011.
Of 20 Windrush Valley ponds surveyed for wetland plants and macroinvertebrates, all but two were found to be UK Priority Ponds supporting important species. They ranged in size from just a few square metres to long linear ditches dug to monitor ground water, and temporary ponds that dry up for parts of each year.
The work in the Windrush valley has received our close support and we are currently incorporating pond advice into the restoration of recently worked areas of our Gill Mill quarry at Ducklington. It is early days but we have created new ponds and scrapes and the early signs are that we are adding biodiversity value quickly and easily.
Case study 2: Rushy Common and Tar Lake Restoration
Gill Mill quarry was acknowledged as being ahead of its time when it opened in 1989. The sand and gravel operation set in attractive countryside hit the highest operational and environmental standards. As the Oxfordshire site now celebrates its coming of age, it does so by setting high standards for good practice in biodiversity.
The imminent completion of Rushy Common and Tar Lakes marks the latest in a progressive series of restoration successes for the site at Ducklington, just outside Witney.
Smiths are very honoured to have received - October 2011 - the prestigious 'Biodiversity Award' from the MPA, in conjunction with Natural England for their restoration of this nature reserve. More details here...
Click here to see the Windrush wildlife wins friends article