Cotswold Dry Walling Stone
Widely recognised as a classic characteristic of the British countryside, dry stone walls are unique as they are constructed without binding substances such as mortar or concrete. It involves interlocking the stones, ensuring that it is done in such a way that the wall holds itself up without additional assistance. Historically, dry stone walls were used as a means of field division – miles and miles of these walls can be seen when driving around the countryside. The naturally beautiful area of the Cotswolds is no different, the creamy/honey coloured stone walls can be seen stretching over the rolling green fields. These walls, often centuries old, sometimes require a repair or two. As dry stone walling suppliers, Smith Bletchington's hand-picked Cotswold dry walling stone is ideal for this, locally sourced and can be delivered directly to site.
Increasingly, however, Cotswold dry walling stone is being used for a variety of other modern construction work. For example new walling, building of Cotswold styled properties, landscaping projects and it is ideal for exterior and interior facing/cladding. It can also be used to face gabion baskets – if you are looking for a natural walling style effect for the gabion wall.
Choosing materials for dry stone walls
Historically, dry stone walls have been constructed from stones found in the field and within the general vicinity. However, today we are fortunate enough to have all the necessary materials available to us, with Smiths being able to deliver their quality Cotswold stone nationwide.
Smiths' Cotswold dry walling stone is quarried from the Rollright Quarry, near the Oxfordshire market town of Chipping Norton. The quarry's stone has its own subtle colour and that wonderful natural Cotswold appearance.
Rollright walling stone is picked, prepared and hand selected into bulk bags and delivered to site in vehicles with crane off load facilities. Bulk delivery of loose stone by our tipper vehicles, or customer collections, can also be arranged.
The quantity required to build a wall is estimated on the basis that for every 1 tonne of our Cotswold dry walling stone you should be able cover 2 face metres of walling, (single skin wall 1m high) or one face metre, (double skin wall 1m high). The toppers, or cock and hen stones are not included in these calculations.
Dry stone walling costs
Our Cotswold dry walling stone is sold per tonne, over our weighbridge, or per bulk bag deliveries. If in doubt please use the online enquiry form, or call our staff to get full details and advice.
Preparing to build a dry stone wall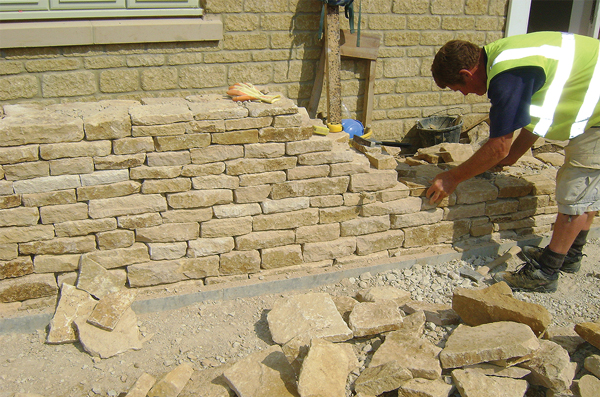 Before commencing construction make sure you clear the area of all debris and obstructions. To start, dig a shallow trench slightly wider than your largest base stones. A loose guideline is to determine how tall your stone wall will be, then build your base approximately half the size of that figure. The trench should be level and at least 15cm/6inches deep for walls of more than four feet high and at least 8cm/3.5 inches for anything less than that.
How to build a dry stone wall
Use your largest and flattest stones for the base and lay them snugly within the trench. Work your way up from here, ensuring the stones are laid with a slight tilt to the outside edge, allowing water to be shed from the stone. Progress upward, gradually decreasing in thickness of stones as you move higher up the wall. The key is to push the stones tightly together, interlocking them as you go, trying to ensure there should be no gaps between or under the stones. For a traditional wall each layer of stone should be slightly indented so when completed the wall should be narrower at the top than the bottom. It is also wise to occasionally use a large stone to fit the across the width of a wall. This helps 'tie' the wall together giving the structure extra stability.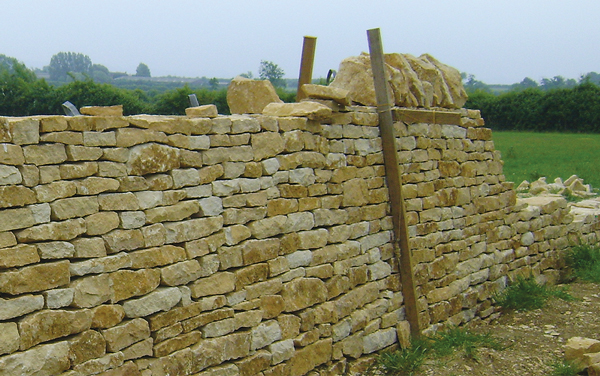 When building a double skin wall the 'infill' will depend on the required end use. For example a traditional wall will use the smaller stones and knappings to infill. Modern landscape walling or high walls will use a mixture of stone, knapping and mortar to infill, giving the wall extra stability.
To finish of the wall in the traditional way is to place large stones vertically on the top, with two larger stones holding them in tightly at either end. Other options are: fix the vertical stones into a bed of cement, or to finish the wall with a cement 'dome' slightly narrower than the width of the wall.
Smiths' Cotswold dry walling stone comes ready for use, however you may need to use a hammer to 'knock off' the stone to ensure a tight joint.
Good tips:
Always use a guide string to ensure that stones are level along the length of the wall.
If possible lay out the stones in size order again along the length of the wall. This will save time and legwork when you start the build.
Lastly have a good eye… look at the gap and fine the stone to fit. This again will save time and money, as wastage will be kept to a minimum.
These notes are for guidance only and as Corporate Members of the Dry Stone Walling Stone association of Great Britain, Smiths recommend you visit the website www.dswa.org.uk . Here you can find further advice on how to construct your Dry Stone Wall, and details of qualified craftsmen.