Case Study:

Equestrian, Menage & Riding Arena Surfaces

We have supplied material for arena purposes locally and throughout London and the home counties using materials from our quarries successfully over many years. The basic designs varies depending on whether built above ground or into the ground depending on the topography of the intended location.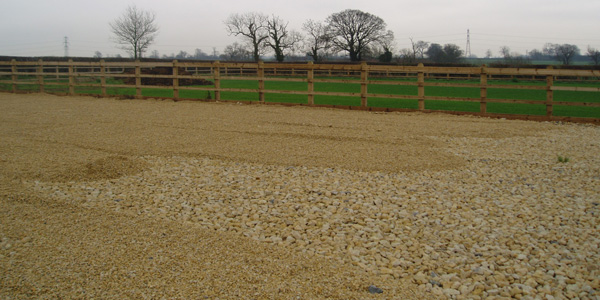 The basic design is to prepare and level the site and if require lay drainage pipes in trenches to falls to take water away from the area. These would be back filled with a clean stone to the formation level. A geo textile membrane is then laid over the formation and drains prior to laying the stone drainage layer.

A layer of 75mm – 40mm crushed limestone is then laid to level and compacted to produce a flat drainage layer which is then blinded with a smaller clean stone (as pictured) prior to the installation of a further membrane prior to laying the final riding surface.

The final riding surface can be a number of materials such as wood chip, rubber, sands of various types depending on the budget and the use for which it is intended.